The road to success — Japan's broadband penetration strategy
Tadao Saito, CTO, Toyota-InfoTechnology Center
Viewing rapid improvement of information technology, efficient use of internet is understood to be a key for social development. For efficient use of internet, telecommunication network is requested to provide low cost broadband capability. In Japan, telecommunication network was traditional narrowband network and did not provide flat rate until the end of 20th century. After 8 years into the 21st century Japan is known to have the world's lowest price and broadest band flat rate service for internet access.
In the presentation, the current situation of broadband penetration in Japan including price tendency is overviewed first. Then promotion and regulation measures taken by the government which led to the current success of broadband penetration in the 21st century is reviewed. Improvement of values of broadband access depends on the richness of internet services. Discussions on network usage promotion policy including network neutrality and P2P technology will be explained. We also have a variety of discussions on social issues caused by rapid penetration of broadband. The presentation will include the discussions on these social issues.
View the presentation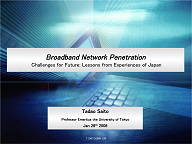 Most computers will open PDF documents automatically, but you may need to download Adobe Acrobat Reader.
Download Acrobat Reader here.
"TadaoSaitoAbs" is mentioned on: AgendaLfICT